Project Overview
This project focuses on roadway, pedestrian access, and drainage improvements in the Berkeley Gardens neighborhood.  The project is bounded by Lowell Street to the west, Federal Boulevard to the east, 55th Place to the north, and the Adams County boundary (just south of 53rd Avenue) to the south.
The project is considering various improvements such as:
Roadway paving/rehabilitation
Roadway upgrades to meet County's standards
Curb ramps, curb, gutter, and sidewalks
Lighting
Intersection improvements
Parking
Drainage improvements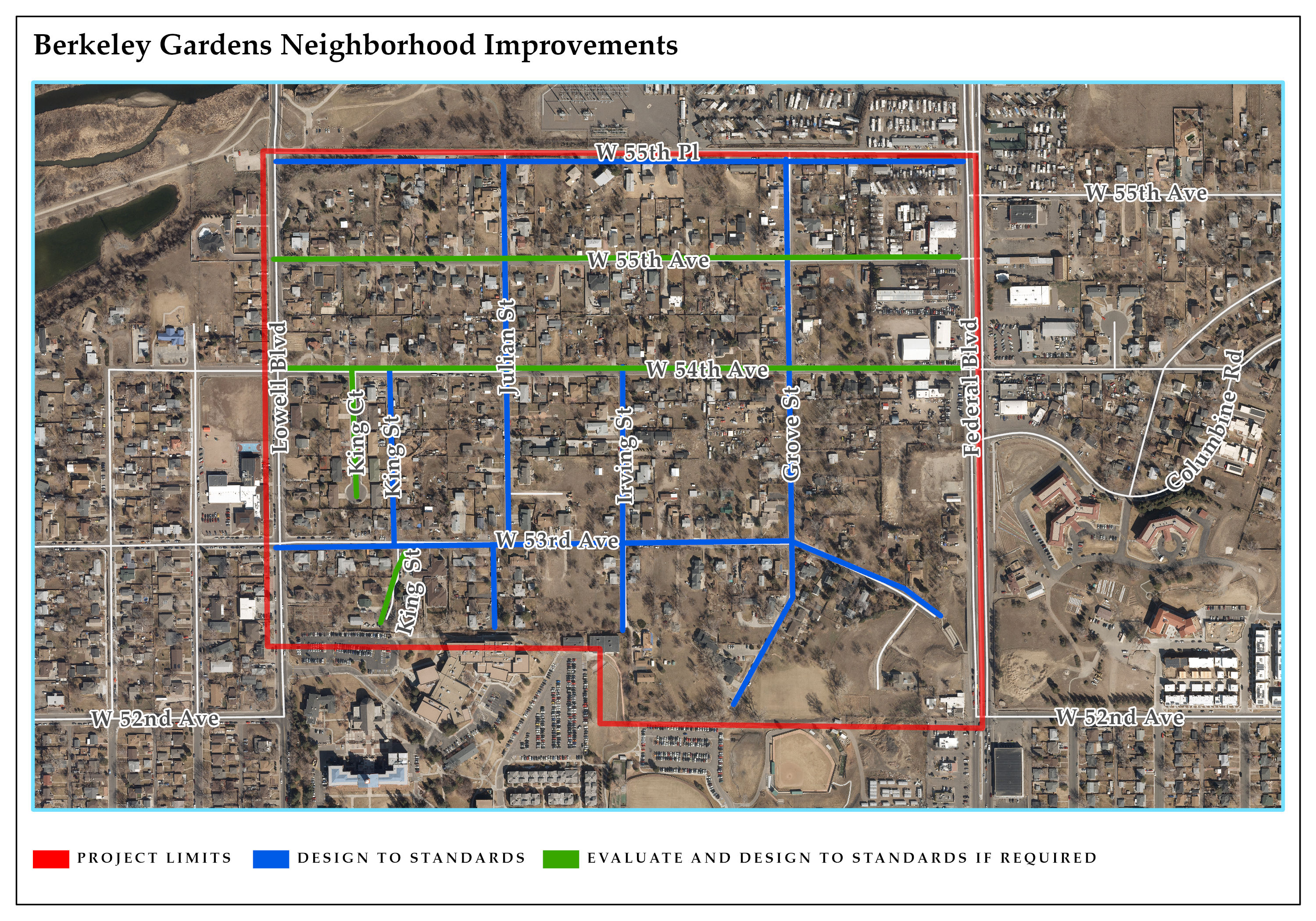 Project Updates
The project is currently in the design phase, which is expected to be completed in 2021.  All dates below are estimated and are subject to change.
Preliminary Design Completion – Spring 2021
Final Design Completion – Summer 2021
ROW Acquisition Process – Fall 2021 through Spring 2022
Anticipated Bidding and Construction – Summer 2022 to 2023
There will be three virtual public meetings with the following estimated dates:
Concept Design Public Meeting – January 2021
Preliminary Design Public Meeting – May 2021
Final Design Public Meeting – December 2021
Notifications will be sent out prior to each meeting to all property owners and residents of this neighborhood.
The design team is advancing the concept plan to 30% design level to determne the impacts.
Contact Information
For project specific information or to share questions or concerns please contact:
Eric Lee, Project Manager
JR Engineering
Phone: 303.267.6223 | Email
or
Long Nguyen, Project Manager
Adams County
720.523.6875 | Email