The Community & Economic Development Department serves Adams County through an integrated and equitable approach to planning and community investment. We partner with neighborhoods, businesses, agencies, and others to bring about positive change for Adams County. Our direct responsibilities include economic development, community development, one-stop development services, land use and development review, building inspection, code enforcement, graffiti abatement, animal management, and the office of emergency management. For more information, please consult the department's menu.
UPDATE: Visit adcogov.org/bhp for new information about the public comment period for the Adams County 2018 draft Balanced Housing Plan.
Need a Permit?
Using the E-Permit Center, you can apply for, review, pay for, and print out building permits at any time from any computer or mobile device. In addition, residents and developers can use the E-Permit Center to schedule conceptual review meetings to get early input on more complex projects such as subdivisions and rezoning requests.
Other permits include:
Adams County Development Tour
The Development Tour is an interactive map showing current projects across Adams County with photos, information, and more.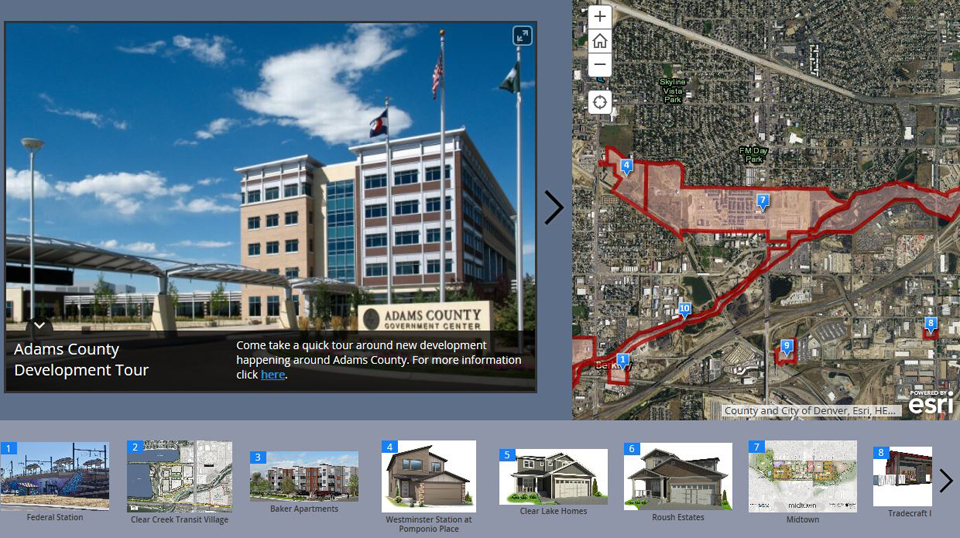 Eye on Adams
Eye on Adams is an online resource that allows users to track building permits, code violations, and dozens of other functions in unincorporated portions of Adams County. Search by address, neighborhood, zip code, or project with a few simple clicks in this interactive map and view a video overview of Eye on Adams: