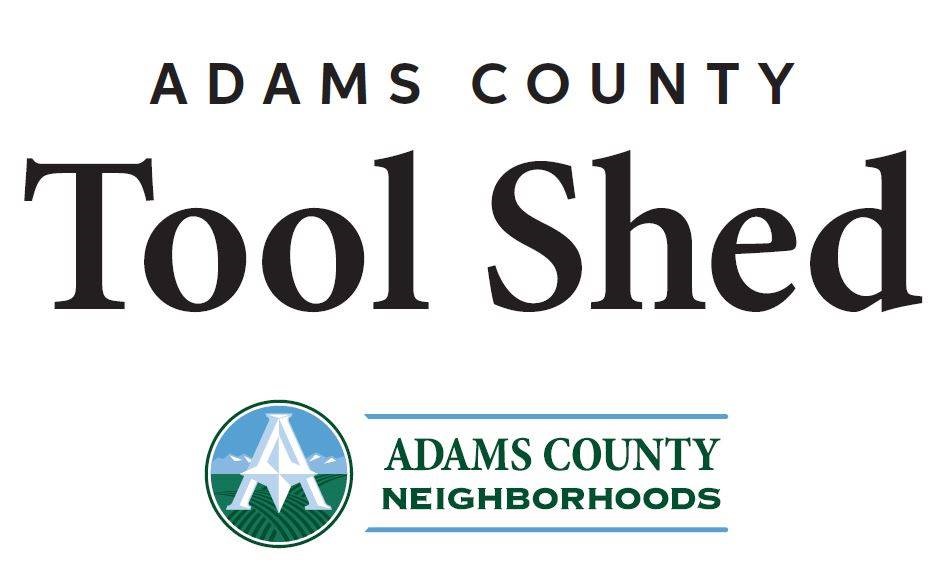 The Tool Shed program provides unincorporated Adams County residents with complimentary access to yard and gardening tools. We are dedicated to supporting residents maintaining their properties and helping others do the same. This program offers two opportunities to use tools.
Yard Cleanup: Unincorporated Adams County residents can check out individual tools to clean up their yard or help a neighbor.
Neighborhood Cleanup: A group of unincorporated Adams County residents can check out the Tool Shed full of yard and gardening tools for a larger neighborhood cleanup.
Tools Available
4 Electric Lawn Mowers
4 Electric Weed Trimmers
2 Electric Edgers
2 Electric Hedge Trimmers
2 Electric Leave Blowers
12 Electric Cords
4 Weed Pullers
4 Leaf Rakes
4 100-ft Garden Hoses
2 D-Handle Drain Spade Shovels
4 Spade Shovels
4 Square Shovels
4 Trowel Planters (3-piece set)
20 Safety Vests
10 pk Trash Bags (32 gallon)
2 Two-Prong Garden Hoes

2 Wheelbarrows
4 Trash Cans/Lids (32 gallon)
4 Industrial Push Brooms
6 Safety Cones
6 Trash Pick-Up Poles
6 5-Gallon Buckets
6 5-Gallon Bucket Lids
2 Hose Spray Nozzles
2 Hand Tiller/Cultivators
4 Tree Pruners (14 ft.)
2 Loopers
2 Hand Shears
1 Post Hole Digger
20 Safety Goggles
2 Garden Hoes
1 Entire Tool Shed **Neighborhood Cleanups ONLY"
Participation Requirements
Neighborhood/yard cleanup effort must be in unincorporated Adams County. Use the Unincorporated Search Map to see if a location qualifies.
Neighborhood/yard cleanup effort must have a designated Cleanup Coordinator (this can be the property owner who rented the tools).
Equipment or Tool Shed can be used for up to three days.
More information on requirements are available in this program guide.
Forms mentioned in the program guide are available within the guide and online:
Tool Shed Equipment Reservation
Fill out the Tool Shed Equipment Reservation form to reserve all or part of the tool shed.
Tool Shed Participant Waiver
Fill out the Tool Shed Participant Waiver form if you're helping with a cleanup event but not reserving tools.
If the cleanup event is on someone else's property, the property owner/manager/tenant of that property must fill out the Tool Shed Authorization to Enter Property Form.
Tool Shed Post Cleanup Survey
After the cleanup event, the Borrower/Coordinator must fill out the Tool Shed Post Cleanup Survey form.
Contact