Oil & Gas Facility Regulations
On September 3, 2019, the Board of County Commissioners approved new oil and gas regulations. View the Development Standards and Regulations manual as well as these documents:
Comments, questions and feedback regarding these regulations can be submitted to Greg Dean, Oil & Gas Liaison, via email at gdean@adcogov.org or phone at 720.523.6891.
Ivey LC Pad Information
The Ivey LC Pad is an oil and gas facility operated by Great Western in western unincorporated Adams County.  The Board of County Commissioners held a public monitoring update meeting regarding this facility on January 5, 2021.  Staff's presentation can be viewed here.
This summary letter is a follow-up by County Staff, intended to provide more detailed information regarding specific questions and comments raised during that update meeting pertaining to air emissions monitoring, operational standards in effect at the Ivey site, and mud usage/odor concerns. 
Oil & Gas Information
The
Colorado Oil & Gas Conservation Commission
(COGCC) governs the permitting and regulation of oil and gas wells throughout the state. Adams County has limited authority when it comes to the oversight of oil and gas operations within unincorporated areas of the county.
Adams County regularly submits public comments on oil and gas related applications and rulemakings at the State-level and within other municipalities aimed at addressing and mitigating potential land use impacts to public health and safety, welfare, the environment and wildlife resources.  The County has commented on the following proposals since October 2019:
City of Aurora: MCC 3-66 25-27 Pad
City of Brighton: Prairie LE Pad, Pioneer Produced Water Pipeline
City of Commerce City: Condor Pad, Blue Jay Pad, Owl Pad, Falcon Pad
COGCC: Flowline Rulemaking, Ivey LC Pad, Gus LD Pad, Freedom 33 Pad (Weld County), Prairie LE Pad, Wellbore Integrity Rulemaking, MCC 3-66 Pad, Mission Change Rulemaking, Conner Pad
Others: Air Quality Control Commision Rulemaking
Mineral rights determinations is a complex matter in Colorado because there can be difference between ownership of surface rights and ownership of minerals (oil and gas) beneath a property.  SB19-181 has expanded certain mineral owners right's regarding forced pooling and non-consenting party requests.  Spacing, pooling, and royalities are all regulated by the COGCC and not Adams County.  Additional information regarding mineral rights and forced pooling is available by visiting the COGCC website.  
Adams County Oil Production & Activity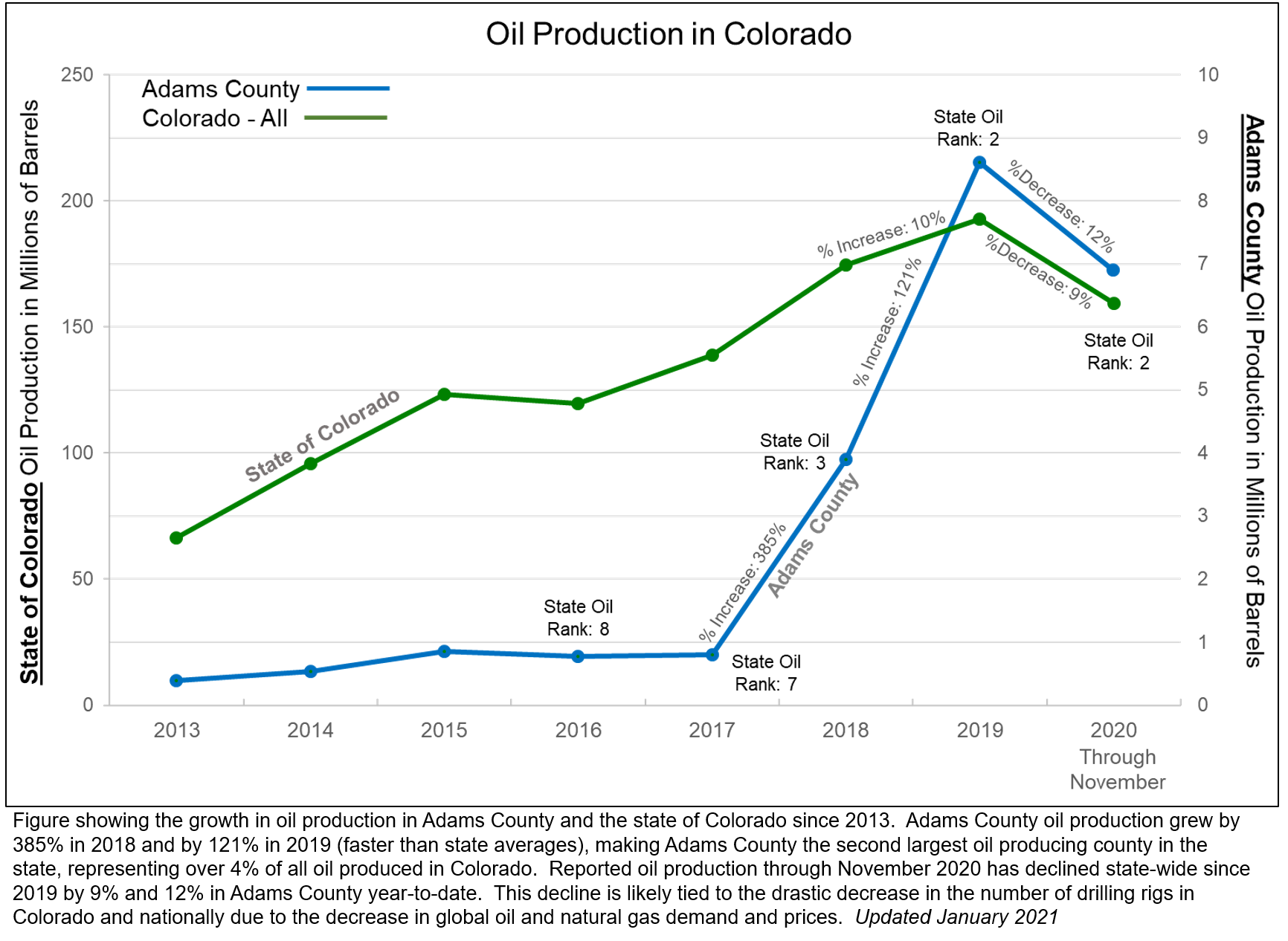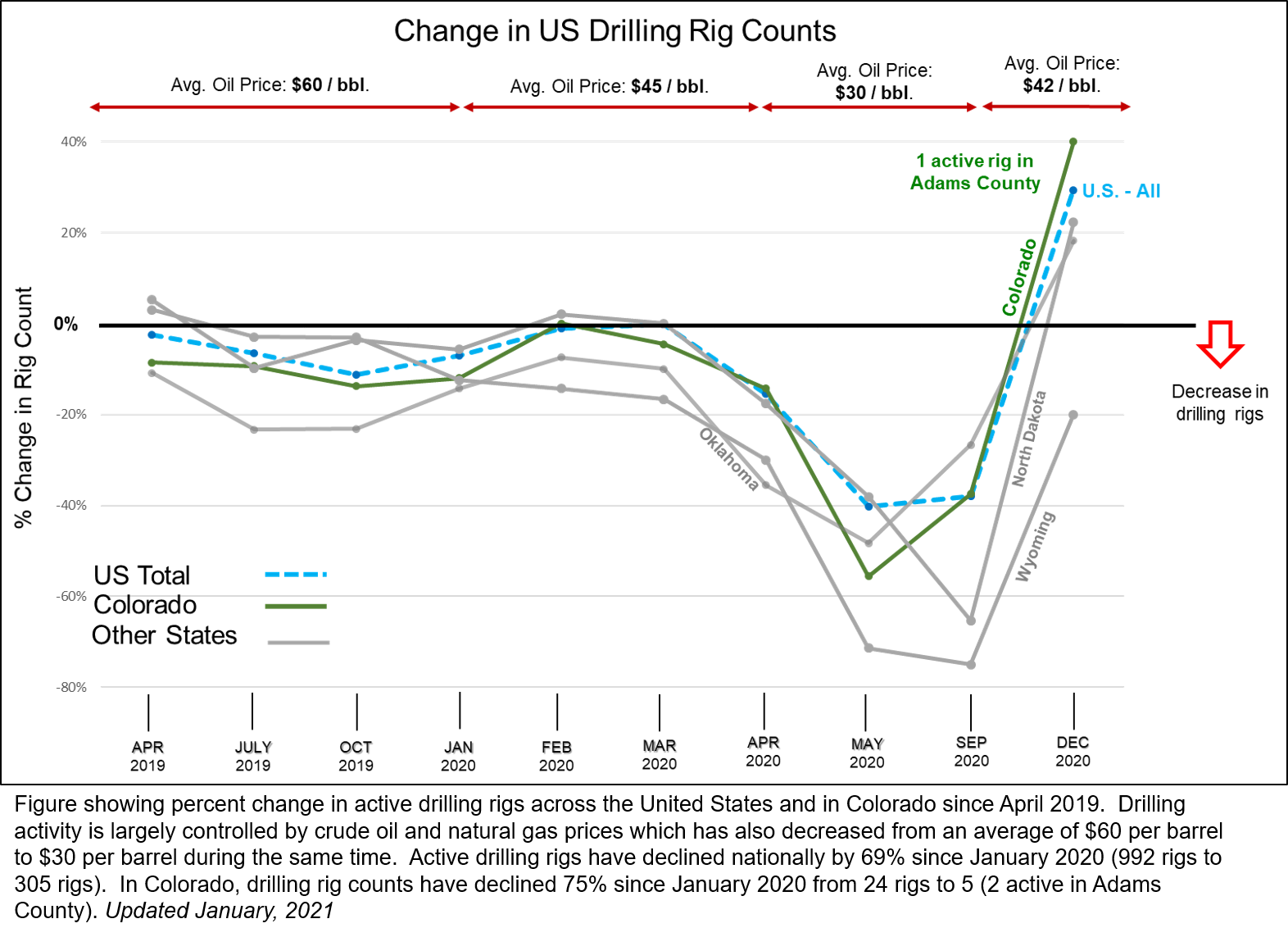 Adams County Oil & Gas Inspection Program
The inspector position was created when the Adams County Board of Commissioners entered into an agreement with the Colorado Oil and Gas Conservation Commission (COGCC) in an effort to increase public outreach and provide administration of the county's new oil and gas regulations approved in March 2016. Under this agreement, the inspector position is funded by the county, trained by the COGCC, and is inspecting on behalf of both agencies.  Adams County implemented a new oil and gas inspection fee schedule on January 1, 2020. To learn more about the new oil and gas inspection fee, please read the frequently asked questions.  An updated list of recent oil and gas inspections can be found in the Weekly Oil and Gas Activity Report.   
The the Oil & Gas Inspectors are responsible for field inspections, complaint response, and participates in state and county enforcement of regulations.
When on a well pad, the inspector assesses compliance with requirements for:
Signs and markers on storage tanks and wellheads, in addition to emergency contact information;
Housekeeping items, such as debris, trash, weeds, and storage;
Fencing and berming condition, maintenance, type, and location;
Noise, odor, and signs of soil staining;
Proper positioning of valves and hatches.
Fugitive emissions, if suspected, including documentation in the form of FLIR video;
Stormwater and sediment controls, along with vehicle tracking, and condition of access roads; and
County USR Permit site-specific conditions of approval.
OGF Permit requirements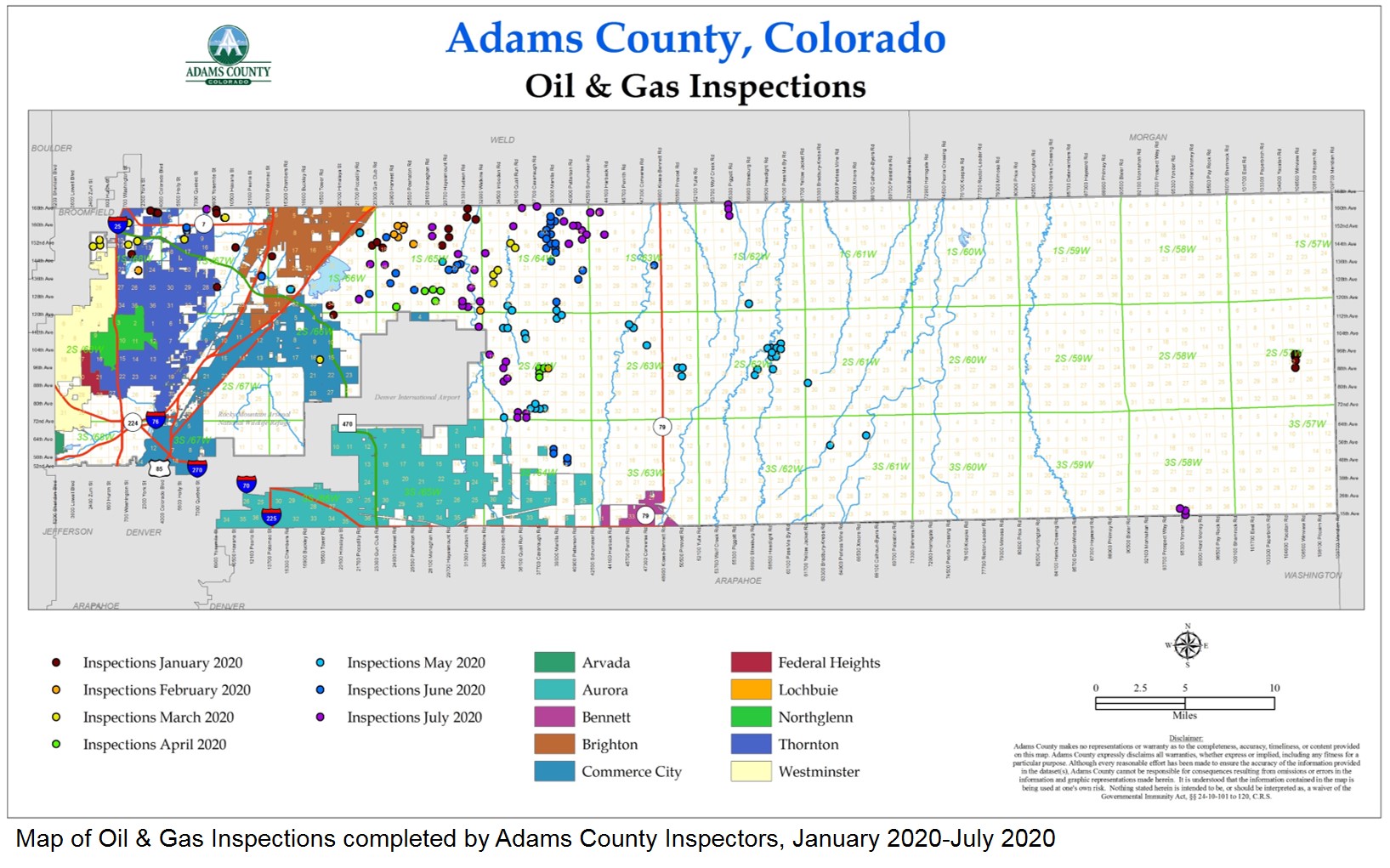 Traffic Impact Fee Study
The Community and Economic Development Department worked with TischslerBise and Felsburg, Holt & Ullevig, to develop and recommend a traffic impact fee for oil and gas development which was approved by the Board of County Commissioners in a public hearing on Tuesday, June 19, 2018.  
The full report is attached below for your review:
Orphan Wells
An orphan well is an oil and gas well that no longer has an operator responsible for maintaining it.  These sites may result in adverse environmental impacts because no responsible party can be found, or such responsible party is unwilling or unable to mitigate such impacts.  These wells and associated sites ultimately become wards of the state. 
Former Governor John Hickenlooper signed an executive order in July 2018 to address the potential safety issues of orphan wells, requiring their disclosure, ranking of priority and cleanup. 
Adams County is home to 21 orphan wells and 12 orphan sites with oil and gas infrastructure; information on these wells has been compiled by County staff and can be found here.  For the most up-to-date information on the Orphaned Well Program, please visit the COGCC website here.  In addition, the COGCC Interactive Map  has a layer showing the location and current status of orphaned wells. 
Frequently Asked Questions and Information
Who Has Applied & Where?
How do I file a complaint?
The Colorado Oil and Gas Conservation Commission has a process for how public complaints related to oil and gas operations are received, processed, and closed
Concerned about your health and oil & gas operations?
Contact CDPHE's Oil & Gas Health Information and Response Team at 303.389.1687 or www.colorado.gov/OGhealth.
Contacts
Comments and questions concerning local oil and gas permits and regulations should be sent to the Adams County Oil & Gas Liaison: 
Greg Dean | Email
Oil & Gas Liaison
Community & Economic Development Department
4430 S. Adams County Pkwy.
Brighton, CO 80601
Ph: 720.523.6891
For oil and gas leasing, easements, and surface use requests on county-owned property, contact:
Nicci Beauprez | Email
Project Manager - Land & Assets
Facilities & Fleet Management Department
4430 S. Adams County Pkwy.
Brighton, CO 80601
Ph: 720.523.6060 | Website 
Comments and questions concerning state oil and gas permits and regulations should be sent to:
Melissa M. Housey, Oil & Gas Location Assessment Specialist | Email
Colorado Oil and Gas Conservation Commission
1120 Lincoln Street, Suite 801
Denver, CO 80203
303.894.2100 (ext. 5194)
Complaints
Should you believe you are experiencing non-emergency impacts from noise, light, odor, dust or mud tracking on roads that may be associated with oil and gas operations please reach out to Keith Huck, Senior Oil & Gas Inspector via the contact information below.  Should this impact occur after normal business hours please contact Greg Dean, Oil & Gas Liaison by e-mail or phone.  Additionally, you may file a state complaint regarding noise, light, odor, and dust with the COGCC via the Online Complaint Portal. 
Keith Huck  | Email
Senior Oil & Gas Inspector 
Community & Economic Development Department
4430 S. Adams County Pkwy.
Brighton, CO 80601
Ph: 720.766.4175
Greg Dean | Email
Oil & Gas Liaison
Community & Economic Development Department
4430 S. Adams County Pkwy.
Brighton, CO 80601
Ph: 720.523.6891