Career Exploration Activities
Businesses and community organizations can provide career exploration activities to help youth get into career pathways. Here are some ways that you can assist as an employer and learn more about the benefits of hiring youth:
Unpaid Internships
Internships are generally more short-term (6-8 weeks), and we provide a stipend for youth upon successful completion. Interns comply with worksite volunteering requirements. See more about work experience opportunities.
Job Shadowing
Name point persons who are willing to let youth shadow them during their normal work routine to get an idea of a day in the life of that job. Alternately, you can offer informational interviews.
Tours of Your Worksite
Provide company tours for groups of youth to teach them about your industry and your company.
Become a Referral Site
Does your business provide leadership development, tutoring, study skills, counseling, financial literacy or related services? Become an authorized vendor and we can refer our Youth Succeed program participants to you for services.
Job Fairs
Host a youth job fair at your location or join one of our job fairs, which are held at our facilities, coordinated with one or more employers, and open to the public. See the full range of services for businesses through our Business Services team.
Business Roundtables
Sit down with local businesses to discuss critical issues in the workforce, in your industry, in employment law, or other topics. Network with other businesses and create collaborative solutions to workforce challenges.
Conduct Mock Interviews and Resume Critiques for Youth
Help youth prepare their resumes with general feedback about content and formatting, as well as the skills employers are looking for in entry-level employees. Work with youth to prepare for interviews in the real world with simulated interviews. Some of the youth may be practicing these skills for the first time. We also partner with local school districts who conduct mock interviews and resume critique events. This is a great opportunity for human resources professionals, business owners, and hiring managers to teach young people what employers are looking for in the next generation of workers.
Experience 9 to 5
Experience 9 to 5 is a unique hands-on opportunity that exposes high school students to local business professionals across multiple industries to tie academic studies to the world-of-work. This event is hosted each year by the Adams County Education Consortium, and local businesses are encouraged to participate.
Adams County Commissioners Career Expo
The Career Expo is an annual discovery event created to encourage professional development and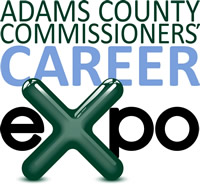 engage 5,600 8th graders with 100+ organizations, including industry, government, non-profits, higher education, and training institutions.  This event is hosted each year by the Adams County Education Consortium, and businesses can join as exhibitors to expose youth to their industries.
Tell Us Your Needs
What do you want to see from youth as an employer?  Provide insight into industry trends and current needs.
For more information, contact:
Brett Schager, Business Development Representative
Adams County Workforce and Business Center