Virtual Public Meeting is open now through Nov. 9
Project Overview
Adams County has begun a road improvement study of E. 73rd Avenue, Race Street and E. 74th Avenue between Washington and York Streets ("E. 73rd Design Project"). The focus of the project is to evaluate the corridor for improvements to auto, bike, and pedestrian safety and mobility, as well as to increase accessibility and neighborhood connections.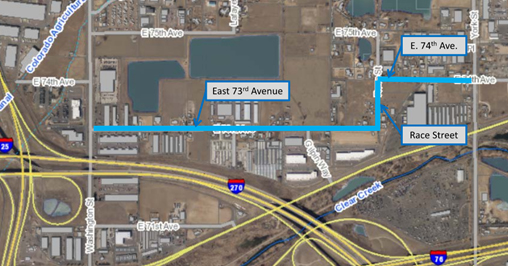 Project Update
The county's project team is currently conducting topography surveys, utility investigations and traffic assessments to collect information about existing conditions along the corridor.
The Virtual Public Meeting is open now through Nov. 9. Residents, businesses, property owners and other interested stakeholders in the study area are invited to participate in this critical study by reviewing the proposed road design alternatives online and to provide comments to the project team.
Click here to access the virtual public meeting.
Project Photos
Click here for photos of the existing project area.
Contact Information
If you are interested in receiving information and updates about the E. 73rd Design Project, please contact Liz Palmquist, Project Outreach Liaison, at liz@nhnconsultingllc.com or 720.280.3342.
For more information about the project, please contact Long Nguyen at 720.523.6808 or email lhnguyen@adcogov.org.