Our Mission
The mission of the Budget & Performance Measurement Department is to develop a financial plan that ensures the health, safety and welfare of county residents. The county is committed to adopting a budget that facilitates the orderly and efficient delivery of county government services, as directed by the Local Government Budget Law of Colorado, other governmental mandates, policy directives developed by the Board of County Commissioners and citizen feedback. Finally, the budget process should promote an organizational culture that fosters citizen access to information and awareness about the county.
Responsibilities & Services
The responsibilities of the Budget Department include:
Administering sales tax
Analyzing budget variances
Collecting mill levies for all taxing districts in the county for certification
Compiling information in preparation of the county's Capital Improvement Plan
Conducting special analysis and studies as requested by the Board of County Commissioners
Ensuring compliance with Colorado budget laws and revenue and spending limitations
Forecasting revenues and expenditures
Preparing the county's annual budget
Providing clear and complete information to the public regarding each year's budget
Providing financial information to the county manager, directors, elected officials and commissioners
Download the 2019 Adams County Adopted Budget
OpenGov
Adams County is using OpenGov's open data portal to share data on the county budget to further increase its effectiveness and accountability with the community and government officials. The portal is available at adamscountyco.opengov.com.
Interactive Budget Tool
Interact with the Adams County Adopted Budget using Balancing Act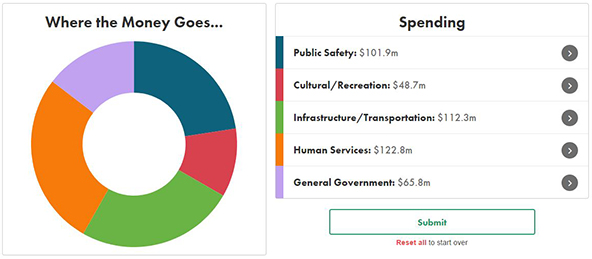 Balancing Act is a fun and easy way to learn about public budgets and the choices elected officials face in the budgeting process. It allows participants to allocate Adams County funds — expressing their priorities and preferences — but also requires them to balance spending and revenue. Try it out!